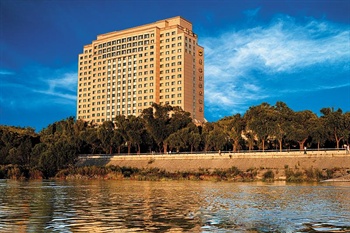 Looking out over the Songhua River, the Shangri-la Hotel Harbin Ha'erbin Xianggelila Dafandian,is one of the few Western 5 star hotels in Harbin. The Russian architecture of pedestrian street Central Avenue Zhongyang Dajie.and tourist attraction Sun Island are just a 10 minute drive away,Views from river facing windows, take in the lights of Harbin's frozen structures on the opposite side of the river during the Harbin Snow and Ice Festival in January. The hotel's luxury guestrooms offer free broadband Internet access and Wi-Fi as well as other amenities like satellite TVs and goosedown pillows. Non-smoking rooms are also available.
The restaurants and cafes of this Harbin hotel offer international,Cantonese and Heilongjiang cuisines. Vegetarian dishes are available in all dining outlets. Room service is available 24 hours a day.
From the indoor swimming pool and Jacuzzi to the fitness and massage centers, the Shangri-La Harbin offers guests a number of ways to spend time in at the hotel's Health Club. During the summer, the outdoor tennis court provides a place for guests to get some sun and stay active.